Blackford County Concerned Citizens Forum:
Embracing Opportunities for Community Health, Part 1 in a series
Blackford County Concerned Citizens is taking action to address environmental health concerns raised by the community including testing soil and water and doing computer-based mapping.  BCCC's goal is to find and reduce environmental exposures that could increase the risk of cancer or neurologic disease.
More than 60 people were at City Hall in Hartford City for the Forum to hear about BCCC's work to date.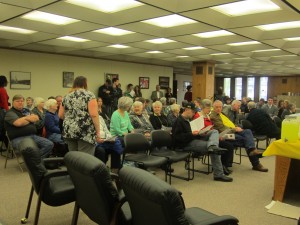 Dr. Sherrie Steiner's Environmental Sociology class from IU-Purdue Ft Wayne (IPFW) presented the three projects they worked on this semester: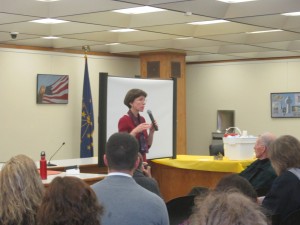 Dr. Indra Frank, Environmental Health Project Director for the Hoosier Environmental Council, reported on health data for the county, the well testing project, and the project to test soil at sites where there used to be glass factories.  Her presentation slides.
Cheryl Mathews, Director of Education and Client Services for Cancer Services of East Central Indiana – Little Red Door, described the support services available to cancer patients in Blackford County through her agency.
Joe Castelo, president of BCCC, gave a history of the organization and described how this work was funded by donations from supporters and a grant from the Blackford County Community Foundation.  Joe asked attendees to consider renewing their support to continue BCCC's work with a reminder that there is currently an opportunity for matching funds through the Blackford County Community Foundation.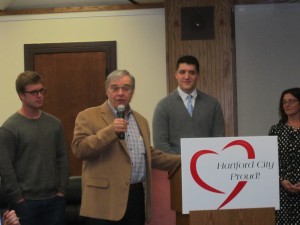 Click here for the event flyer.