Blackford County Concerned Citizens (BCCC) in partnership with the Hoosier Environmental Council (HEC) has reviewed the public record on the Hartford Iron contamination and cleanup.
On Saturday, Nov 7, 2015, BCCC hosted a meeting to provide an update on the cleanup. 18 Blackford County citizens attended including Mayor Hodgin.  The environmental consulting firm responsible for the next steps in the cleanup, Keramida, sent their Senior Vice President for Engineering Services, Kristen Belcredi, to the meeting.
BCCC president, Joe Castelo, gave an introduction.  Dr. Indra Frank, Environmental Health Director with HEC, gave a synopsis of the violations, agreed order, contaminants, and cleanup to date.  Her presentation is available here. Kristen Belcredi, from Keramida, explained the storm water system that is going to be installed.  It will collect all of the storm water that runs off of Hartford Iron into a retention pond that will be built on a property Hartford Iron owns on the south side of Chestnut Street.  From there the water will be treated to remove contaminants before being released into the storm sewer.  Ms. Belcredi explained that the water in the pond will be moving, which discourages mosquito breeding, but if necessary they will treat it to prevent mosquitoes.  There were some excellent questions from the attendees.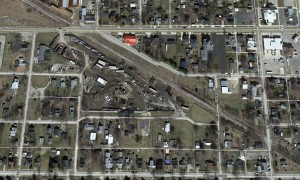 Hartford Iron, satellite view