Hooray for Mayor Hodgin! Hooray for City Council Members!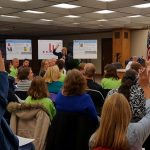 In a packed City Hall on Saturday morning, students from Dr. Sherrie Steiner's class at IPFW and BCCC board members presented information and evidence from their nearly 3 year-long search and investigation about the high incidence of cancer and neurological disease in Blackford County.
In addition to the concerned residents, students from Taylor University, Manchester University, and North Manchester High School were in attendance.
The presentation focused on the air surrounding and the groundwater underneath Hartford Iron & Metal (HI&M). The presentation urged the government to support relocating HI&M to another location such as the Industrial Park. IPFW students presented drawings showing the possible business benefits to HI&M associated with relocation. The students also created posters explaining evidence of fugitive dust contamination.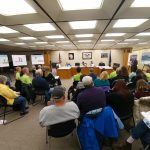 Evidence presented showed contamination of the groundwater with heavy metals such as chromium, cadmium, nickel, lead, and arsenic, and that the flow of the groundwater was in the direction of city wells. Evidence from recent testing also showed air around the site was contaminated with similar heavy metals, suggesting that the only solution to protect the health of citizens is relocation.
Comments from citizens expressing their concerns about the situation were read to the attentive Mayor and City Council Members for a half an hour. More than fifty comment cards had been submitted related to what it has been like living near Hartford Iron and Metal, concerns over groundwater contamination and explaining why they want HI&M to relocate.
Upon hearing the presentation and asking several good questions, the Mayor and Council suggested the Mayor appoint a group to further study relocation of the local business. Mayor Hodgin boldly suggested that he would personally ask a representative from Hartford Iron and Metal to participate in the group. "That's my job," Hodgin said to the audience!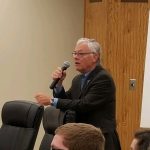 In closing, BCCC President, Eric Evans, encouraged all to focus on the solution to this community issue with cooperation as their guiding thought.
Please continue paying attention to this important issue. Thank you for your involvement!
If you have any questions, feel free to contact us at 765-730-4168 or email us at blackfordcoconcernedcitizens[at]gmail[dot]com.
You can still:
From The Presentation
| | | |
| --- | --- | --- |
| Relocation Logistics | New Location | Urban Farming |
| | | |
Resources
Government Officials Contact Information
Summary Of The Situation
Test Results From April 2017