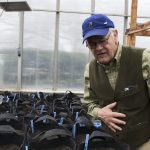 Blackford County Concerned Citizens is giving away free growing vegetables and distributing information about relocating Hartford Iron and Metal. Dr. Indra Frank will be present to answer any questions about health risks associated with pollution. IPFW students will be presenting information about air and groundwater conditions.
Saturday, April 21st from 10 am – 12 pm
Blackford Junior High School
700 West Conger Street
Hartford City, IN 47938
IPFW vans will also be downtown distributing vegetables and IPFW students are helping pick up trash in the community neighborhoods.
Note: The location was recently changed from City Hall to the Junior High School.
Please continue paying attention to this important issue. Thank you for your involvement.
If you have any questions, feel free to contact us at 765-730-4168 or email us at blackfordcoconcernedcitizens[at]gmail[dot]com.