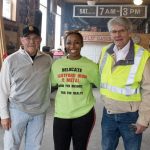 What a fine day we had last Saturday! The IPFW College of Arts and Sciences START program funded a record involvement of IPFW students to grow mini-gardens to give away at our events on Earth Day in Hartford City. Thank you, IPFW! Seven vans of IPFW students associated with Dr. Steiner in Sociology and Dr. LeBlanc in Communications joined us for a full morning of activities. Jabin Burnsworth also brought a carload of AP Science students from Manchester High School. Activities occurred throughout Hartford City.
Downtown Barbecue Compliments of John Oxley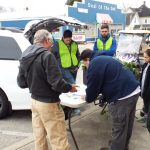 Saturday was the best turn-out of citizens we have had at any event. The hub of activity was downtown at John Oxley's barbecue. The food was quite an attraction, but Eric Evans, BCCC President, said that he personally talked with people non-stop throughout the event. Students gathered comment cards from residents and gave away mini-gardens to residents. The group made a great impression! Just look at the smiles.
Blackford Junior High School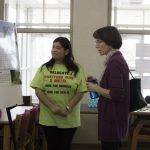 IPFW students had posters of information about Hartford Iron and Metal at the Junior High School. They gave away mini-gardens to visitors, answered questions, and talked about future plans for additional moss testing. Dr. Frank from Hoosier Environmental Council talked with residents about the public health implications of heavy metal exposure. We are grateful to Blackford Junior High School for opening their doors and providing a place for students to present their posters. Thanks as well to Katie at Common Grounds for providing coffee and snacks.
City-Wide Trash Pick Up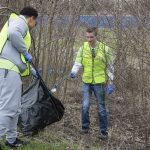 IPFW students joined Hartford City residents in picking up trash to clean up city streets after this long dreary winter. There were almost as many student volunteers as there were volunteers from Hartford City! Everyone worked up an appetite for the lunch provided by John Oxley.
Library Mini-Garden Giveaway
The library was celebrating its expansion. Unfortunately, the wind came up and made the area quite chilly. Students stayed and gave away mini-gardens, but everyone was happy to get downtown to join others at John's to warm-up and eat.
Preparing Trees for Planting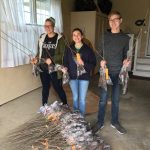 Jabin Burnworth's students from Manchester High School prepared trees for planting in recognition of Earth Day. They took the tree bundle to the park, separated trees, and bagged them to be given away at various locations for planting.Thank you, Jabin!
Mini-Garden Giveaway in Fort Wayne!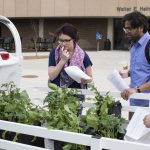 When we collaborated with IPFW to grow mini-gardens in the IPFW greenhouse, we also collaborated with organizations in Fort Wayne. This week, more than 100 mini-gardens were given to students and food insecure residents in Fort Wayne. Faculty translated plant care instructions into Spanish, Burmese, Arabic, French and Japanese.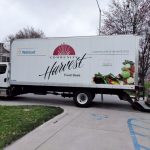 Community Harvest was delighted to receive the mini-gardens. This project built a lot of good will between students, the university, residents of Fort Wayne, and Blackford County Concerned Citizens.
Purdue Fort Wayne Funds Moss Testing!
Dr. Sherrie Steiner in the Anthropology and Sociology Department and Dr. Jordan Marshall from Biology applied for a research grant to conduct another round of moss testing. If you live near Hartford Iron and Metal and are interested in hosting a moss station on your property, please contact Dr. Steiner at steiners[at]pfw[dot]edu. They are looking to identify nine locations by the end of June. Thank you!