New Video about our Earth Day Activities
One of Dr. Steiner's students, Luis Nunez, just completed a video about our Spring Earth Day activities. As you may recall, students in Dr. Steiner's sociology classes, the Sociology Student Association and the Communication's Honors Society collaborated with Blackford County Concerned Citizens, the Community Harvest Food Bank and the IPFW Food Pantry to give away live vegetables to food insecure residents on Earth Day.
Students volunteered all semester—sterilizing grow beds, shoveling dirt, planting seeds, and tending seedlings– to grow vegetables in the Purdue University Fort Wayne's greenhouse to give to the community.
Purdue Fort Wayne's physical plant and the Environmental Resources Center provided invaluable support to make this project successful.
Dr. LeBlanc's Health Communications' students helped us emphasize healthy eating patterns.
The Department of International Language and Cultural Studies translated plant care instructions into multiple languages.
Students made buttons, tied gangly plants to stakes, and canvassed neighborhoods to distribute information about the project to the community.
The idea originated with Blackford County Concerned Citizens.
As you know, BCCC and residents have been asking city officials to work with Hartford Iron & Metal (HI&M) to discuss their possible relocation to a nearby industrial site. The steel recycling plant has been contaminating the neighborhood air and water with heavy metals that are known carcinogens. If the discussion to relocate HI&M to the industrial park succeeds, a large brownfield will remain.
This pilot project was initiated to show Hartford City residents the feasibility of above-ground gardening on brownfields.
Dr. Mohammadpour's students in a Sustainable Construction course designed an imaginary greenhouse suitable to the current lot where Hartford Iron & Metal is operating, and they showed how relocation to the industrial site would be beneficial to business expansion.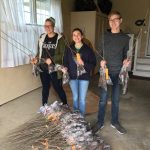 Jabin Burnsworth also brought a carload of AP Science students from Manchester High School.
On Earth Day, many of the vegetable plants were taken to Hartford City, but we had more than enough and students were eager to share. Students helped distribute the live vegetables to students at semester's end, and Community Harvest Food Bank was eager to help distribute the rest.
It is through projects like this, that Blackford County Concerned Citizens and the Hoosier Environmental Council are helping reduce the risk of cancer and neurological disease in Blackford County.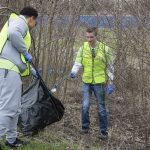 This project was sponsored by a START grant from the College of Arts and Sciences and a Purdue Student Service-Learning Grant that provides seed monies for research, development, and community-building projects in which faculty and students work directly with community members, civic leaders, and regional institutions to accelerate Fort Wayne's growth and enterprise.
Purdue Fort Wayne Moss Testing Project Underway
Dr. Sherrie Steiner in the Anthropology and Sociology Department and Dr. Jordan Marshall from Biology have begun the research grant to conduct another round of moss testing. If you are interested in volunteering to help water moss stations when our hosts are away, please contact Dr. Steiner at steiners[at]pfw[dot]edu. They are looking to create a list of volunteers who can assist our station hosts.  Thank you!